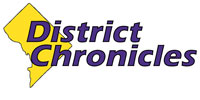 Post Classifieds
The emotional damage and silencing of rape victims
By Jazelle Hunt/NNPA Washington Correspondent
On February 23, 2015
(NNPA) – For 20 years, Sharita J. Lee was numb. She did not cry. She did not love the men she dated. The only emotion she felt was rage.
After reading the article about comedian Hannibal Buress' jab at Bill Cosby, Lee scrolled to the comments section. She couldn't believe how many people questioned why these women were coming forward decades later.
The topic of rape has not only been revived by the controversy surrounding Cosby, but also by misbehavior in other segments of society. For example, dozens of high-ranking military officers have been fired for rape or having inappropriate sexual affairs with women within and outside their command. According to the Department of Justice:
Every two minutes, a woman somewhere in America is raped.
22 percent of victims were younger than age 12 when they were first raped, and 32 percent were between the ages of 12 and 17.
25 percent of girls and 17 percent of boys are sexually abused before the age of 18.
70 percent of rape and sexual assault victims know their attacker prior to the assault.
Every year nearly one of every five Black women – 19 percent – are raped.
Two decades ago, Lee was a 20-year-old New Orleans native serving her country as a member of the U.S. Navy. She had joined the military to distance herself from home, where her stepfather physically abused her mother, who was battling alcoholism.
However, she returned to New Orleans immediately when she learned her grandfather was on his deathbed. During her visit, she ran into a childhood friend at her uncle's house, and the two caught up. As they laughed and reminisced on the couch, Lee got a phone call. Her grandfather had died.
Abruptly, in the middle of condolences and small talk, he lunged at her. In a fluid flurry, he grabbed her legs and pulled her toward him. He pinned her knees to her chest. She shoved him. He was a foot taller and outweighed her by 100 pounds. She was stunned.
"I would've never thought, prior to that moment, that that was something he had done before, but it happened so fast," said Lee. "I couldn't even say 'what happened,' I just felt him go in. In my mind I'm thinking, 'Wow, is this happening, are you serious?'"
]Afterward he got up, apologized, kissed her, and left. She didn't move. She couldn't speak. When he was gone, she got up, cleaned herself off, and cried. Then she carried on as if nothing had happened.
At the time, Lee told only one person: her then-boyfriend, when he came to visit her on the Navy base after her grandfather's funeral.
"He responded by calling me a whore. He said I invited it, and cheated on him, purposely," recounted Lee. They argued all night and ended the relationship. The reaction pushed her into stoic silence. "I never told anyone else. That was the first time I actually went that far, and for his reaction to be the way it was…I felt humiliated but I also felt unworthy."
Slowly, she lost her bearings.
"I became very promiscuous. I put myself in the mind of a man. However they thought that they could handle a woman, is how I began to handle them," said Lee. "I know I was angry and bitter for some time. I was drinking a lot – try to couple that with being in the military – and I was having sex a lot."
Her pain hardened to numbness, then curdled into a bad temper, worsening as years slipped by and hardship bubbled up. There was the birth of her first child and a young and unhappy marriage and then divorce at 25.
"I was 28 when I first sought therapy. I went for depression, because my brother was murdered. I was having anxiety attacks, but I couldn't cry over it," said Lee. "I realized I'd hit rock bottom in my emotions, or lack thereof. I knew I was to my limit with not dealing with anything."
Today, Lee is the only person in her immediate family who has sought professional help as part of dealing with her trauma.
"It's like, OK, I was raped. But as I get older and realize it's affecting my relationships…what are you going to do to change it? You have to go find help for that. Because ultimately, you're a prisoner in your own mind, and in your own heart."
This project was made possible by a grant from the National Health Journalism Fellowship, a program of the University of Southern California Annenberg School for Communication and Journalism.
Get Top Stories Delivered Weekly
More districtchronicles News Articles
Recent districtchronicles News Articles
Discuss This Article