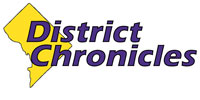 Post Classifieds
Children's book tells the story of Loving v. Virginia
By Terri Schlichenmeyer
On March 2, 2015
Your best friend's mom never minds if you make too much noise. She takes you places and gives you snacks, too. She's a really nice lady, and so is your best friend's dad. He shows you how to do things, and makes you laugh. You like spending time at their house. It doesn't matter to you that she's Black and he's White.
But what if there was a law that said they couldn't be a family because of their races? 'The Case for Loving' by Selina Alko tells the story of Richard Loving and Mildred Jeter, who had to overcome racist laws in order to stay together and build a family.
Falling in love was easy for Loving and Jeter. Right after they met, it didn't take long for them to decide that they wanted to get married and raise a family.
But there was one problem: in 1958 it was illegal for them to get married in Virginia. Yes, a simple wedding could land them in jail!
So, Mildred and Richard went to Washington, D.C. and tied the knot there. Family and friends went to the wedding, and everybody was happy. The Lovings were excited to start their new lives back home.
However it wasn't long after their return to Virginia that the police came in the middle of the night and said that the Lovings' marriage certificate was no good. They put Richard and Mildred behind bars because their marriage was 'unlawful.'
In an attempt to avoid more jail time, the Lovings had to leave their families and move to another state.
They returned to D.C., and did their best to settle in.
Richard got a job. Mildred had three children in 'three different shades of milk-chocolate brown.' But the city wasn't a good place for the Lovings. They missed their families and weren't happy.
Nine years after that late-night police visit, the Lovings hired lawyers to fight for the right to live in their beloved hometown in Virginia.
For anyone who's too young to remember Loving v. Virginia, "The Case for Loving" is a very informative, eye-opening book.
In her notes, Alko says that as a Jewish White woman she finds it 'difficult to imagine' that her marriage to Sean Qualls, an African-American man and the illustrator of her book, would have been illegal fifty years ago.
This current generation might find that notion to be almost unbelievable as well, considering that they've never known a world like the one the Lovings experienced.
"The Case for Loving" is targeted towards the four to eight year old age group. What parents should understand is that, particularly for younger readers, this book could be scary. For toddlers, the concept of being taken away to jail is the stuff of nightmares, so be cautious before exposing children to this information.
However, if you're prepared to explain and guide your young readers through the content, this could be a great read-aloud book.
Get Top Stories Delivered Weekly
More districtchronicles News Articles
Recent districtchronicles News Articles
Discuss This Article