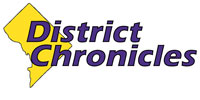 Post Classifieds
Secondary victims: the children of rape survivors
By Jazelle Hunt/NNPA Washington Correspondent
On March 2, 2015
(NNPA) – When Tiffany Perry learned about her conception, she was too innocent to fully understand the gentle explanation her mother offered, too young to process such a heavy and complicated behavior.
What she distinctly remembers is watching "Oprah" with her mom a few years later. In this episode Oprah revealed to the world that she was a rape survivor.
"When [Oprah] said herself, and started crying…my mom just fell apart," recounted the 39-year-old New Jersey native. "I tried to console her, but she was inconsolable. It was just so intense."
At 15 years old, Perry's mother was raped by her foster mother's adult, married son. The rape continued for two weeks, sometimes at knifepoint. Despite being a virgin at the time and under the care of the state, few people bothered to inquire about the details of the pregnancy. Plus, the fact that he had threatened to kill her kept Perry's mother silent.
In subsequent years, freed by the Oprah episode, Perry's mother became more forthcoming. But opening that door triggered another set of emotions.
"My mom was awesome, she never talked down to me…my mom always praised me, always gave me love. But I felt like…I owed it to her to be perfect so she doesn't feel like keeping me was a mistake," said Perry, voice trembling with emotion.
"It's just assumed whenever a woman gets raped, she never gets pregnant, or if she does get pregnant, the child is automatically aborted or adopted," said Perry. "There's this group of people who've been conceived by rape and nobody ever discusses us. I want to talk about it because we exist. I exist."
Philadelphia-based author, activist, and scholar Ewuare Osayande wasn't born of this violence, but grew up in its shadow. His mother spent her childhood at the mercy of a sexually abusive stepfather.
Today, he is the creator of Project ONUS: Redefining Black Manhood, a series of anti-sexist workshops for Black men. It took time before he was able to connect the dots and realize how his mother's abuse – some he had witnessed, some he had not – had affected his own development.
Justice Department data show that Black women are more likely than their White counterparts to be assaulted, sexually and otherwise by strangers and family members.
As the son of a rape and abuse survivor, and as a formerly emotionally abusive person, Osayande also realized he had to address his own internal conflicts and beliefs.
"It's been a very real, clear determination on my part to make sense of the life I've experienced as a Black man, in a gendered way…It's been my desire to become an effective ally in that struggle, in that engagement in the world in which Black women exist, and experience."
Lori Robinson's "I Will Survive: The African American Guide to Healing from Sexual Assault and Abuse", cites a study that draws parallels between the emotions of boyfriends and husbands of women who have been sexually assaulted, and the wives and girlfriends of war veterans.
"Not surprisingly, past or recent sexual trauma can present unique challenges for the survivor's partner," wrote Robinson. "You are a victim too. Some experts call you the secondary victim. After all you are experiencing many of the same emotions sexual assault victims feel."
Perry's breaking point came about 20 years ago. A probation officer contacted her out of the blue, looking for her father. He had given her name and birthdate as his next-of-kin. She learned that not only did he know about her, but he also knew where she lived. To this day, they live less than an hour apart. She has never contacted him, but has learned a bit about his life via relatives on Facebook.
"When I went to go look for support groups for children of rape victims or children conceived out of rape, they're pretty much nonexistent," said Perry. "[Rape] is so common we don't even cringe when we hear about it. Rape is inhumane, and people are not treating it like it's inhumane. They just treat it like 'Well, it happens.'" Her mother remains her primary source of support.
This project was made possible by a grant from the National Health Journalism Fellowship, a program of the University of Southern California Annenberg School for Communication and Journalism.
Get Top Stories Delivered Weekly
More districtchronicles News Articles
Recent districtchronicles News Articles
Discuss This Article