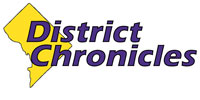 Post Classifieds
How you can support rape survivors
On March 9, 2015
Preparing for their fifth wedding anniversary should be a joyous time for Sharita and Robert Lee. However, the memory of Sharita's rape clouds their celebration. Though her assault occurred before they met, the unresolved trauma and her recovery have shaped their relationship.
"It's really a test for a guy – when you think about what would you do if you came across [your spouse's rapist]. But I think it'd be a bit disrespectful for me to take the lead and do something brash when I wasn't even the one that was really affected by the incident. I should more be concerned about how my wife is being affected," said Robert.
Ewuare Osayande, a Philadelphia-based author, educator, and activist has made it his work to educate the masses about rape in the Black community.
"I have … made it part of my work to raise the issue of how we as Black men relate to Black women, how we understand the issues that they face, and what we need to do with ourselves to not just be spaces of support – but also recognizing the very real presence we play in the oppression that they're experiencing," he said.
With endeavors such as Project ONUS: Redefining Black Manhood, Osayande hopes to educate more Black men on these issues. "For me it's been understanding that there are stories and dialogues that many Black women will never be able to have in the public arena with Black men, because of Black men's ability to just walk away from the conversation and worse – dismiss those women as men-hating and the like," said Osayande.
Robert thinks empathy could also be key to bridging the gap.
"Sometimes if it doesn't pertain to [Black men] we think there's nothing [we] can gain from it. We tend to feel like we're conquerors, nobody's really going to get over on us," said Robert. "And maybe we don't get [sexual assault] because we feel like we're strong, and we would fight back, and nobody would ever do that to us."
Black women have the highest religious observance of any group, yet most Black churches and faith leaders struggle to preach about the sexual violence and trauma so prevalent in their congregations.
There are some that manage it, however. The FaithTrust Institute, a national multi-faith, multicultural organization, offers faith communities and advocates thorough training on these subjects.
Support can also be found at the annual Holistic Hurt, Holistic Healing Conference in Richmond, Virginia.
Get Top Stories Delivered Weekly
More districtchronicles News Articles
Recent districtchronicles News Articles
Discuss This Article