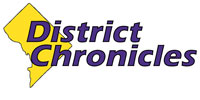 Post Classifieds
Despite D.C. measles cases, some refuse vaccination
By Rachel Kersey/Howard University News Service
On March 9, 2015
WASHINGTON – Public health officials are urging Washington-area residents to get vaccinated following two reported cases of measles -- an extremely contagious disease that can lead to pneumonia, swelling of the brain, and even death—has been reported in the area.
But despite calls from President Barack Obama, Surgeon General Vivek H. Murthy, public health commissioners in Virginia and Baltimore, the Centers for Disease Control and Prevention (CDC) and other public health organizations for parents to vaccinate children, some parents are saying, "No."
Monee Fisher, a 19-year-old mother with a one-year-old daughter named Melissa, stood laughing with her arms crossed and a pink lollypop in her mouth as she said adamantly that refused to give her daughter the measles vaccine.
"I don't believe in medicine," Fisher said. "I just think it's another way for the government to make money off of humans, and I don't think [vaccines] actually work."
Health department officials said the Washington measles case is linked to international travel, and not the measles outbreak that began in California and has spread across the nation.
As of early February, 121 cases of measles have been reported in Washington and 17 states, according to the CDC.
Mahlori Isaacs, the media and public affairs officer of the District of Columbia Department of Health, declined to give information about the infected individual here. "Specific information pertaining to the patient or where they were treated cannot be disclosed in order to protect the identity of the individual, and the integrity of the facility that provided the patient care," Isaacs said.
With the location of the outbreak a mystery, measles could be at the grocery store, the mall, the playground, the public bathroom or any number of places.
"I think people really need to know that you can get measles anywhere," said Dr. Anne Schuchat, the assistant surgeon general and director of the CDC's National Center for Immunization and Respiratory Diseases. "It's invisible."
Ninety percent of the people close to an infected person could become infected with measles, according to the U.S. Surgeon General's website.
Prior to the measles vaccinations in 1963, the U.S. averaged 450 measles-related deaths annually and more than 150,000 Americans were stricken with measles-related respiratory infections and other serious ailments, according to health officials.
Authorities have said the resurgence of the disease is mostly caused by the growing number of people who are declining to vaccinate their children for personal reasons, or delaying the vaccinations.
Regardless, Fisher said she refuses to budge on her decision regarding her daughter, even after Melissa's father, Erick Souder, 19, argued with her about her stance on vaccinations. "I'm not wrong," she said. "I'm right. They're just making money off of us."
Fisher said she doesn't plan to ever vaccinate Melissa and will instead seek an exemption. And she's not worried at all about the danger to other children. "I mean, I don't really care about the other children," she said, laughing. "That's going to sound rude, but their parents do what they want. It's their kid. This is for my daughter."
Under D.C. law, people can get exemptions from the MMR vaccine for medical or religious reasons, but according to Schuchat, 79 percent of the unvaccinated cases of measles in 2014 were due to personal belief exceptions, as in Fisher's case.
"It is frustrating that some people have opted out of vaccination," Schuchat said. "I think it's very important for people to have good information they can rely on about the safety and effectiveness of vaccines. "I hope people can realize these viruses and other germs are out there still and our vaccines really are still needed."
And vaccines really are effective as well. According to the CDC's website, one dose of the MMR vaccine is 93 percent effective at preventing measles, and a second dose is about 97 percent effective.
Raven Glinton, a teacher's aide and mother of one, said she didn't think it mattered whether children were vaccinated. "I say that because I work in childcare now," Glinton said. "We have kids in there that are vaccinated and they still get sick. They're kids. They pick up toys on the floor. They're likely to get sick anyways."
Glinton said she did not get her daughter vaccinated against every disease, and she does not remember if she gave her daughter the MMR vaccine. "I can see why some people say [exemptions aren't] fair, but I mean, you can die from anything," Glinton said.
Some people and parents said they don't mind Glinton or Fisher's attitude, regardless of if their children are vaccinated or not.
"It's really important for children to avoid getting measles [by getting vaccinated]," Maileen De Asis said. "But I don't think we have control over {exemptions). "There's no point in stopping them from getting mixed with children with the vaccine, because I think the measles vaccine is somehow going to prevent measles from happening."
Daizja Hamilton, a sales associate at Pentagon City Mall, agreed. "At the end of the day, some peoples immune systems are stronger," Hamilton said."Some people may never get it. They may never be vaccinated ever, and they may never get sick with anything. "
Sonia Chhabra, who works with Hamilton, echoed her co-worker's thoughts. "To each their own," Chhabra said. "If that's what the parents decide, this is still a free country. You can't do anything about that."
Get Top Stories Delivered Weekly
More districtchronicles News Articles
Recent districtchronicles News Articles
Discuss This Article