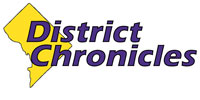 Post Classifieds
Doctors design goggles that help detect cancer cells
By Sandra Jordan/Special to the NNPA from the St. Louis American
On March 16, 2015
They started with a question about what they can be done with light without exposing the patient to radiation. The answer is, use infrared light. By taking advantage of in the visual spectrum of what humans can and cannot see, doctors at Washington University School of Medicine designed goggles that allow surgeons to see cancer cells not visible to the naked eye.
Samuel Achilefu, Ph.D., professor of Radiology, Biomedical Engineering and Biochemistry and Molecular Biophysics at WUSTL directs the Optical Radiology Lab, where the goggles were developed.
The entire body has billions of cells and if surgeons want to pick out just a few cells, they need them to stand out. The eyes cannot see infrared light and body does not absorb infrared light very well, said Achilefu.
"With that knowledge, we don't want to obstruct what the surgeon is doing – you want them to see just what they are seeing with no obstruction at all and then we can make the cells just light in the region where they cannot see," Achilefu explained. "And no part of the body gives off this light at all and the advance you have is this: even if it's just a single cell, it's like a light in the dark."
They wanted the goggles to be lightweight, simple to use and provide powerful information to diagnose various diseases in the body.
"If we have glasses like this and we code signatures inside of it such that the cancers can pick up that light with eye sensitivity and ignoring every other thing around it, then we are in a very good position to find it," said Achilefu.
For global applications goggles also need practical at the point of care, whether it is at home, in rural areas or advanced medical facilities.
"I wanted it to be something that has no footprint in the operating room so that people could move around easily," he said. The results being no obstruction at all and they get all the cancer out.
The goggles took three years of work with students involving engineering, biochemistry, radiology-based imaging and wireless communication.
"I want to use this in rural Missouri, for example, or a remote area in Africa, and somebody here at Wash-U can guide surgery," said Achilefu. "They can stay here and guide you with no limitation."
With the goggles on, infrared dye placed on the cancerous tissue lights up blue if cancer cells remain, allowing surgeons to see and remove all traces of the disease.
"We've done about 11 breast cancer patients here at Wash-U," said Achilefu. "What we want to solve here is recur rates. "Our goal here is to reduce that recur rate in breast cancer patients to near zero."
Dr. Greg Fields has been using the goggles at Wash-U in melanoma surgeries.
"He can now use the goggles to see what he is looking at to make sure the cancer is not coming back," said Achilefu. "So, we've done about 27 or 28 patients."
The prototype from Wash-U is being used in China at the Fudan Liver Institute in Shanghai.
"We've done 11 patients in China with liver cancer," said Achilefu. "Liver cancer is huge, a big problem in China." Fudan is the largest liver institute in the world, he added.
He added: "I personally think we produce some of the best engineers here at Washington University and some of the best scientists you can imagine. What if we had a high-tech company here, based in St. Louis as a footprint with which you can then [have a] platform to move to other parts of the world? There is something in me that says it should be here."
Achilefu and his team are finalizing the prototypes and are seeking Food and Drug Administration approval so they can be widely disseminated.
"In fact, we have so many requests now from all over the world that we need to quickly move, get FDA approval for this so they can be used at clinical centers for brain surgery, for example."
Get Top Stories Delivered Weekly
More districtchronicles News Articles
Recent districtchronicles News Articles
Discuss This Article