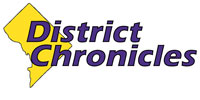 Post Classifieds
Social club promotes Black identity, alternative culture
By Ian D. Mahon/Contributing Writer
On March 30, 2015
President Wayne A. I. Frederick welcomed the freshman class at Howard University at the start of the academic year, but there is also a new club eager to introduce the students to a new way of being Black. In a classroom at Burr Gymnasium last semester, Jamal Jones highlighted the planned events of Label Us Black, a yet to be sanctioned Afropunk club at Howard.
Dressed casually in a striped red and black shirt, his appearance belied his position of co-president as he let his audience in on future festivities. But first, he had to educate the uninitiated on what Afropunk is.
Followers of Afropunk refer to it as a platform for the other Black experience, the "lifestyle path-less traveled" never seen in mainstream media, according to its official website. This year, Afropunk Fest, a free New York weekend festival, will take place on August 23 and 24 at the Commodore Barry Park in New York City.
Afropunk is described as merged punk, indie rock, alternative cultures with a largely African-American involvement, a movement that allows African Americans to participate in music genres with typically caucasian participation. Punk rock bands, alternative rock bands and other music acts linked to the Afropunk community include Death, Pure Hell, Bad Brains, Suicidal Tendencies, Dead Kennedys, The Roots, Wesley Willis, Fishbone, Santigold, Janelle Monáe, Shinobi Ninja and many others. Of the notable bands associated with Afropunk, Bad Brains as well as punk rock icon, Henry Rollins, hail directly from the DC area.
Nadia Bartholomew, who had never heard of Afropunk, expressed confusion at the name.
"Afropunk? Isn't that an artist?" She asked wide-eyed.
"Are you talking about Afrojack?" Asked Cynthia Gana responding to her question.
The whole room exploded in laughter, the kind only friends, good-natured acquaintances and tight-knit families would recognize. As the laughter faded, conversation turned to esoteric topics such as itchy foreheads, lost buttons at an airport, new indie rock bands and Cartoon Network.
Label Us Black concentrates on diverse "alternative" events and activities, which have so far included group thrift-shopping trips, multicultural potlucks, culture-celebration festivals, weekend music festivals and others. Besides hosting music shows, the group has attended others in the area as well, such as a punk rock show
Founder and president, Sophomore Economics major Nia Johnson, described it as "an alternative social club."
"I wanted to start a club," she said, "for people alienated by that whole narrative that Black people or being Black is one specific way."
Johnson and Jones started the club over a mutual interest of alternative hobbies, such as listening to indie rock music, watching Japanese anime, 1990s American cartoons and other hobbies.
The club has hosted one music show so far, featuring the bands Tarfu, an alternative rock, Baltimore-based band; EMPLife, an electronica instrumental band stylized as such and Gloria Adios, an indie rock band based in DC.
At the show, Label Us Black raised money selling tickets, food, CDs and other merchandise provided by the performing bands. The bands, while each unique, brought to the show sounds reminiscent of well-known commercial bands such as Explosions in the Sky, LCD Soundsystem and Pearl Jam to name a few.
While musically-focused on underground genres considered "atypical" for African-American audiences, the likes of which include indie rock, punk rock, grunge, Label Us Black has no ill-will towards "typical" music such as hip-hop and R&B. One of the reasons the organization was created was to provide a place for those who do what is "alternative" but still enjoy the Howard experience.
"What we've done is establish a place for alternative people to just meet," said Jones. "I wanted people who liked different things to actually be able to find each other."
With a new member swaggering in every one or two weeks, the group seems to be getting more and more noticed.
"Apparently the name and the idea have already mass spread," said Jones. "Everybody who talks about it seems to be down for it. I think what we've done is created a separate space, a new idea on campus and I hope it progresses as the years go on."
Get Top Stories Delivered Weekly
More districtchronicles News Articles
Recent districtchronicles News Articles
Discuss This Article