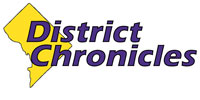 Post Classifieds
HUH surgeon shares battle with cancer in documentary
By Shannen Hill/Howard University Hospital
On April 6, 2015
Wife, mother and medical specialist, Dr. Lori Wilson allowed cameras to roll as she underwent a double mastectomy. Her surgery and struggle is now part of Ken Burns' latest documentary, "Cancer: The Emperor of All Maladies", which premiered March 30 on PBS.
From the age of seven, Wilson, 46, knew that she wanted to be a surgeon. A southern Virginia native, she was fascinated by an anatomy book she found in her house while other kids were reading Dr. Seuss.
"I remember when I was little, I would watch "M*A*S*H," which was a show about surgeons," said Wilson. "I wanted to be like Hawkeye, who was the guy surgeon who saved people and was good at what he did."
When she was in the 10th grade Wilson was selected to do a summer program focused on cancer research. At the young age of 15 she decided she wanted to become a cancer surgeon.
Today she is the division chief of surgical oncology, which focuses on breast cancer, as well as the program director of the general surgery residency at Howard University Hospital, where she completed her residency years ago.
Cancer is not foreign to Wilson. Aside from treating hundreds of cancer patients, she also saw both of her parents go through the disease. Her father was in the Air Force and her mother was a stay-at-home mom.
However, Wilson says she had never completely understood what it was like to be in the patient's shoes until she was diagnosed with breast cancer in 2013.
"I had my son and breast fed for about a year," said Wilson. "Since I was over 40, the recommendations were to wait three to four months for my breasts to go down.
"It had been about four months, and I realized that one of my breasts didn't go down to the size that I expected. So, I ended up getting a mammogram and an ultrasound and was diagnosed when my son was a year and a half."
Wilson said she went to church that Sunday, and the message that day was about being in the fight of your life and needing to ask for help instead of trying to take everything on alone. From that moment, she decided that she would be completely open with everyone in her life about her diagnoses.
"My mom taught me the importance of letting people who are close to you care for you," said Wilson. "I wanted to be a patient, not a physician sort of managing my own care. That meant letting everyone know, because this is something that doesn't just affect me. It took a lot of pressure off and gave me the ability to go through treatment without worrying if anyone would find out."
Using her own experience, Wilson seeks to educate and help others.
"At Howard, we talk a lot about legacy," said Wilson. "For me, part of that is making sure that your life has purpose. It was important for me because a lot of my patients look like me. We wanted people to see the bigger picture, the humanity, the care and how people just step up. It's those quiet moments of humanity that are really special."
Through her diagnoses, Wilson's husband, who she met in medical school, has been her greatest support system. Her diagnoses has brought her family closer together and allowed them to share on a more intimate level. Wilson said she also receives support from her church and Howard families.
To get more of a glimpse into Wilson's life, you can see her feature in "Cancer: The Emperor of Maladies," which is now airing on PBS. For listings, visit www.pbs.org.
Get Top Stories Delivered Weekly
More districtchronicles News Articles
Recent districtchronicles News Articles
Discuss This Article