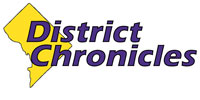 Post Classifieds
Rev. Bernice King promotes non violence on Good Friday
By Lyndia Grant
On April 6, 2015
Tune in on Good Friday to Radio One's Spirit WYCB 1340 to hear "Think on These Things" hosted by me, Lyndia Grant, at 6 p.m. I interview the Rev. Bernice A. King, CEO of the Martin Luther King, Jr., Center for Non-Violent Social Change. She will talk about the continued moratorium that she is shepherding.
The King Center website speaks on how the commemoration of the 47th anniversary of the assassination of Dr. King will again be remembered.
The Center is calling on this continued moratorium on violence for the day, which kicked off last year, on April 4, 2014, by asking everyone to commit to "No Shots Fired." This means abstaining from shots fired by the tongue (speech), fists (physical violence), or guns (gun violence and media that glorifies gun violence).
"This is just one of the ways we can begin to turn the tide of escalating violence in our world," stated Bernice A. King.
According to [This Day in History's' Website], "It was just after 6 p.m. on April 4, 1968, Martin Luther King Jr. is fatally shot while standing on the balcony outside his second-story room at the Lorraine Motel in Memphis, Tennessee. The civil rights leader was in Memphis to support a sanitation workers' strike and was on his way to dinner when a bullet struck him in the jaw and severed his spinal cord. King was pronounced dead after his arrival at a Memphis hospital. He was 39 years old."
The website further shows months before his assassination, Martin Luther King became increasingly concerned with the problem of economic inequality in America. He organized a Poor People's Campaign to focus on the issue, including an interracial poor people's March on Washington, and in March 1968 traveled to Memphis in support of poorly treated African-American sanitation workers.
Dr. King gave his last sermon in Memphis; he said "We've got some difficult days ahead. But it really doesn't matter with me now, because I've been to the mountaintop … And He's allowed me to go up to the mountain. And I've looked over, and I've seen the Promised Land. I may not get there with you, but we as a people, will get to the promise land!"
According to the Martin Luther King Jr. Center for Non-Violent Social Change, "If we can make April 4th a day of meditation and action to prevent physical and spiritual violence in our homes, communities and nations," King continued, "We will be able to honor my father's legacy in a way that serves the cause of nonviolent change, for which he gave his life." King also announced that The King Center will remember the assassination of her father by convening a forum, "A Moratorium on Violence: It Starts with Me!" on Saturday, April 4, from 1- 4 p.m. in the Center's Freedom Hall Auditorium.
Lyndia Grant is a speaker, radio talk show host and columnist; visit her website at www.lyndiagrant.com or call 202.263.4621. Her radio show airs Friday at 6 p.m.
Get Top Stories Delivered Weekly
More districtchronicles News Articles
Recent districtchronicles News Articles
Discuss This Article