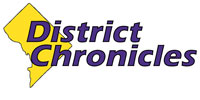 Post Classifieds
My second close call with death
By George E. Curry/NNPA Columnist
On April 6, 2015
(NNPA) – Nothing was more startling than when a cardiologist looked me directly in the eyes and said matter-of-factly: "It looks like you had a heart attack." I was dumbfounded. When? Where? How much damage was done? Why didn't I know it?
It certainly didn't feel like I had suffered a heart attack. I had just covered and participated in the 50th anniversary of Bloody Sunday in Selma, Alabama. The ceremonies had special significance to me because as a senior at Druid High School in Tuscaloosa, Alabama, I had participated in the last day of the march in Montgomery, where I saw James Baldwin and Harry Belafonte for the first time.
In addition to covering the president's speech that Saturday, I had received a Freedom Flame Award the same night, and on Sunday morning was one of the speakers at the Martin and Coretta King Unity Breakfast. I walked across the Edmund Pettus Bridge and completed my writing and editing for the NNPA News Service on Monday. On Tuesday, Ann and I stopped in Buford, Georgia, to visit family.
On Wednesday night, I felt a slight pain in my chest, but dismissed it as indigestion. It continued Thursday night. When the pain persisted Friday night, Ann insisted on taking me to the hospital.
We ended up at Emory Johns Creek Hospital. Armed with my iPad mini, a book and a notebook, I was prepared for a long wait. However, once my symptoms were shared with the intake nurses, I was whizzed through the paperwork and placed in a room.
"We're going to keep you overnight to see what's happening," the attending physician told me. From the way he said "keep me," I deduced that they were not keeping me around just to get to know me better. Something was amiss and I wasn't sure what.
I was told around midnight that at 7 a.m. that Saturday, a stent would be inserted into my heart to unblock a clogged artery. At the age of 50, I had a triple bypass. I had played quarterback at Druid High and Knoxville College and did not drink – not even wine – smoke or use illicit drugs. Yet, an athletic past and clean living were not sufficient. I was the son of the South, and I had grown up in a family where our grease was cooked in grease.
Now, 18 years later, I was told that of the three bypassed arteries, one was completely blocked, one was 97 percent blocked and one was functioning fine. The surgery itself was not as dramatic as the bypass, which required the heart to be stopped temporarily. This time, the cardiologist made an incision in my groin, placed a stent over a balloon catheter and slid it into the heart muscle to improve blood flow. I was awake, but did not feel any pain. From there, the intensive care nurses took fantastic care of me.
I had a follow-up visit and a stress test with Dr. Jigishu Dhabuwala at the North Atlanta Heart and Vascular Clinic before being released to the care of Dr. Boisey O. Barnes, my regular cardiologist in Washington, D.C. Dr. Barnes had already begun discussing getting me into a heart rehabilitation program and enrolling me in a Harvard study to prevent second heart attacks.
After writing about my bypass 18 years ago, Bill Pickard, a Detroit businessman, said I had probably saved his life because he took some immediate steps to improve his health after reading about my challenge in Emerge magazine.
At the urging of "Uncle Mike" Fauvelle of Setauket, New York, I am writing about my second close call with death, hoping that it will prompt you to not only pay closer attention to your health, but be aware of the small signs of trouble and do something about it immediately.
George E. Curry is editor-in-chief of the National Newspaper Publishers Association News Service (NNPA) and BlackPressUSA.com. He can be reached through his Web site, www.georgecurry.com, on Twitter at @currygeorge and his fan page on Facebook.
Get Top Stories Delivered Weekly
More districtchronicles News Articles
Recent districtchronicles News Articles
Discuss This Article