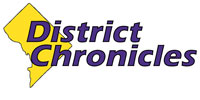 Post Classifieds
Ward 4 residents hear from candidates
By Rachel Kersey/Howard University News Service
On April 13, 2015
The race to replace former City Council member Muriel Bowser, who was elected to the mayor's office during the mid-term elections, has been going on for months, but it began in earnest last week as residents poured into the Kingsbury Center in Northwest Washington, as three of the four leading candidates squared off in a debate.
There were boos early on as Janelle Treibitz, the forum's coordinator, announced that the leading contender, Brandon Todd, Bowser's former chief of staff and handpicked successor, would not there.
But as the debate moved forward between the leading candidates, Renee Bowser, Dwayne Tolliver and Leon Andrews, last Thursday, Todd's absence was quickly forgotten. Moderator Nikki Lewis, the executive director of DC Jobs with Justice, presented questions to the candidates that allowed them to demonstrate their commitment to the community, knowledge of the pertinent issues, and strategies for community improvement.
The candidates, whose campaign workers distributed literature to attendees, had 90 seconds to respond to questions about housing, jobs, development, education, crime, homelessness.
Andrews said he is working to improve post-secondary education by implementing evidence-based programs in the ward to train youth and young adults.
"I'm doing a lot of work here in D.C., with Mayor Bowser and some city council members, and across the country," said Andrews. "We know what works.
"I'm working with the president of the United States right now on his My Brother's Keeper initiative, where we're connecting the TechHire work to how we are investing in our communities."
Underemployment and affordable housing also were discussed. According to the infographic provided at the event, 72,000 families are on the DC Housing Authority waitlist for subsidized affordable housing, and family homelessness has nearly doubled in the last year, from 1,200 families in 2013 to 2,200 in 2014.
"Homelessness is actually the effect," said Tolliver. "It's not the cause. In order to deal with the problem, we have to deal with what is causing the problem.
"It could be trepidation. It could be alcoholism. It could be abuse. It could be psychosis. We need to make certain that we are providing the right resources to deal with the problem, and that will reduce the effect."
Violent crime in the district was another issue. Although murders have dropped by more than two thirds over the past 20 years, there have been 26 homicides in the city this year as of April 3, according to statistics from the Metropolitan Police Department. Two occurred in Ward 4.
Just over 106 violent crimes, ranging from sex abuse and assault to robbery and homicide, have occurred in the ward this year.
"I believe that we can reduce crime in our neighborhood by looking at our neighborhoods and where we have hollowed out communities because of mass incarcerations, drug arrests and poverty," said Renee Bowser. "We need to reinvest in those devastated neighborhoods in order to have lasting public safety."
Renee Bowser also advocated for job training and adult education for citizens returning from prison and jail and services for those who don't qualify for food stamps or public housing so they do not commit more crimes and return to custody.
Those who attended the debate said they believe it is important that citizens participate in the political process.
"This is my ward," said Keith Towery, a grant manager for the federal government. "If I don't come out and see who I'm going to support, I might just believe the hype and go with the many yard signs I may see, which may not be really reflective of what could be best for my community."
Kevin O'Connor, a resident of Petworth, had been disinterested in the elections since the sudden death of budding politician AJ Cooper in December 2014, but O'Connor said he is getting back into the spirit of the race, and is unsure about where to cast his vote.
"I know it's really important to be involved in my community so I'm really starting to gear up and get knowledgeable about the candidates," said O'Connor. "I'm still sort of forming my opinions." The general election is April 28.
Get Top Stories Delivered Weekly
More districtchronicles News Articles
Recent districtchronicles News Articles
Discuss This Article