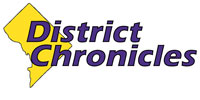 Post Classifieds
Hillary runs for President: how will she earn the Black vote?
By Hazel Trice Edney
On April 27, 2015
(TriceEdneyWire.com) - She's officially in. Hillary Clinton, the former first lady who ran for president against Barack Obama; then served as his secretary of state has finally announced that she is running for the presidency again.
"I'm getting ready to do something too. I'm running for president," Clinton says in a two minute video released Sunday. Her part comes at the tail end of a video that features racially and sexually diverse Americans speaking of the new endeavors in their lives. The first issues she mentions is economic inequality.
"Americans have fought their way back from tough economic times," she says. "But the deck is still stacked in favor of those at the top. Everyday Americans need a champion, and I want to be that champion. So you can do more than just get by. You can get ahead, and stay ahead. Because when families are strong, America is strong. So I'm hitting the road to earn your vote, because it's your time. And I hope you'll join me on this journey."
By far, Clinton is the most well-known candidate – Republican or Democrat – in the race so far. With a video announcement with strong Black participation, she obviously realizes that the Black vote will again be key in a Democratic election. And a Clinton spokesman this week indicated she will not take the Black vote for granted.
"Hillary Clinton has a record of advancing opportunities for African-Americans and their families, and will work hard over the course of her campaign to earn their vote. That's why she has African American staff overseeing all the activity in the states, running the campaign's political operation and Human Resources among other key functions. She made clear yesterday that she is running for President to be a champion of everyday Americans and fight to make sure that they and their families don't just get by, but that they get ahead and stay ahead," said a statement released from the campaign in response to a question from the Trice Edney News Wire.
Upon her announcement Sunday, President Obama immediately praised her, saying, "I think she would be an excellent president."
But, members of the Congressional Black Caucus which split 50-50 between their support of Obama and Clinton the last time may again hold off on their endorsement until they see the full slate of candidates. So far, other Democratic contenders don't come close to Clinton, according to a poll conducted by CNN – even Vice President Joe Biden.
Republican contenders are many. But, they have an uphill battle to win the Black vote which has been key in the last two elections.
BET.com reporter Joyce Jones recently wrote an article saying Clinton has a strong start in hiring Blacks in high places in her campaign.
"This is the strongest start when it comes to diversity in presidential politics that I've seen and I've been doing this for over 20 years," Jones quoted Jamal Simmons, a principal at The Raben Group, a Washington, D.C.-based lobbying firm. "She is hiring Black and Latino department heads and women in important positions. It's aggressive and to be commended."
Among those heads is Tyrone Gayle, who this week set up a press call in advance of Clinton's visit to Iowa a coveted early primary state. Most recently, Gayle worked as a press secretary for the Democratic Congressional Campaign Committee.
Other than the key issues like the economy, incarceration rates, police misconduct and education as indicators of sensitivity to Black voters, another litmus test for any Democrat who decides to run will be the amount of money spent with Black media. That includes Black newspapers, broadcast, on line and social media.
Meanwhile the fight is on. While Clinton is praised as "a forceful advocate for women, children, and families, and an effective ambassador on the global stage" by Democratic National Committee Chair Debbie Wasserman Shultz, Republican Committee Chairman Reince Priebus did not mince words:
"Americans need a president they can trust and voters do not trust Hillary Clinton. Over decades as a Washington insider, Clinton has left a trail of secrecy, scandal, and failed policies that can't be erased from voters' minds," Priebus said in a statement. "Republicans have a strong and diverse set of candidates who will engage in a productive debate on how to move our country forward. Clinton's coronation represents more of the same, and voters have made it clear they want a new direction."
Though Clinton appears far ahead as the presumptive Democratic nominee, Shultz agrees it will be a lively race:
"While we expect a competitive primary for the Democratic nomination, one thing is for certain — next November, voters will face a choice between Democrats who will continue to build on the middle class economic success of President Obama, and Republican candidates who want to bring back the failed, trickle-down economics of the past," Shultz states. "I look forward to the contributions that Secretary Clinton, and all of our eventual candidates, will bring to this debate between two very different visions for the country."
Get Top Stories Delivered Weekly
More districtchronicles News Articles
Recent districtchronicles News Articles
Discuss This Article