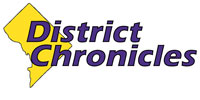 Post Classifieds
Cleveland activists not hopeful for change
By Richard B. Muhammad and Charlene Muhammad/Special to the NNPA from The Final Call
On June 8, 2015
(FinalCall.com) – Protests were largely peaceful, calls for calm were plentiful and pleas for the city of Cleveland to be a model for dealing with deadly Black-police encounters and tense police-community relations were prominent.
But besides those voices was also a seething anger, outrage not quenched by promises of reform as some felt the time to give America's systems a chance is over.
Judge John P. O'Donnell's acquittal of Officer Michael Brelo on involuntary manslaughter and felonious assault charges in the deaths of Timothy Russell and Malissa Williams in November 2012, was the final straw, these activists said.
The United States will never give justice to Black people and, the activists bitterly added, this is not a country where Blacks can live with Whites in peace.
Their voices may not reflect a majority of opinions but do reflect a strong sentiment and growing disgust as Blacks lose their lives to police officers and nothing is done about it.
Officer Brelo stood on the hood of the car driven by Russell and fired 15 shots into the windshield. His shots punctuated a 137-shot police barrage into the car carrying the two Black, unarmed suspects. The couple had committed no crime. Their car backfired and cops thought shots had been fired, officials said. A high speed chase followed and the bullet-riddled bodies and car were the result.
There were so many deadly shots, the judge ruled that it was impossible to say Officer Brelo's shots took the lives of the victims. Thirteen officers fired into the car.
"The blood of these brothers and sisters are crying out and we are seeing how people are wasting their blood and they're acting like we have no value. I believe in my heart we are at a point of civil war and revolution and the young generation that's coming up is going to take the reins on that," said Mariah Crenshaw, a Cleveland activist.
Cleveland also awaits the outcome of investigations into the fatal police shooting of 12-year-old Tamir Rice, gunned down in seconds by an officer who pulled into the park where the Black boy was playing with a toy gun.
Rep. Marcia L. Fudge, who represents Cleveland and is an established leader, seemed fed up herself.
"The decision of Judge John P. O'Donnell to acquit Officer Michael Brelo is a stunning setback on the road to justice for Timothy Russell, Malissa Williams and the people of Cleveland ... Today we have been told—yet again—our lives have no value," the House Democrat said in a statement. "By any measure, the firing of more than a hundred rounds of ammunition by the Cleveland Police Department toward two unarmed citizens was extreme, excessive, and unnecessary."
A history of police violence?
The 2012 high-speed chase prompted an 18-month Justice Department investigation. The DOJ report required the city to work with community leaders and other officials to devise a plan to reform the police department.
The Justice Department's report spared no one in the police chain of command. The worst examples of excessive force involved patrol officers who endangered lives by shooting at suspects and cars, hit people over the head with guns and used stun guns on handcuffed suspects.
The Justice Department said officers were poorly trained and some didn't know how to implement use-of-force policies.
Two other high-profile police-involved deaths still hang over the city: Tamir Rice the boy holding a pellet gun fatally shot by a rookie patrolman, and Tanisha Anderson, a mentally ill woman in distress who died after officers took her to the ground and handcuffed her.
Failure of Black elected officials?
"The majority of the city is 60-65 percent Blacks. We have a Black mayor, a majority Black city council, and our political representatives are a part of the problem and not the solution," charged John Boyd, another Cleveland activist.
Black politicians are too busy trying to appease Whites and show they're not giving preferential treatment to Blacks, rather than leading and rebuild the fabric of the Black community, he said.
Boyd added, Black politicians act like it's okay for Whites to advocate for their people but not for Blacks to advocate for Blacks. He disagrees with that.
"We're at a point now where America, White supremacy, Europeans have let it be known that African people are an overstocked item that has expired a long time ago and there is no use," said Boyd.
Adding insult to injury, nine White Cleveland cops filed a federal racial discrimination lawsuit against the city, claiming they are racially discriminated against when they shoot Blacks. The officers (eight White and one Hispanic) alleged they were denied overtime pay and subject to boring menial tasks while placed on administrative leave following the shooting.
"It does not surprise me that they would have the temerity to do something like that. They always seem to want to try to take advantage of the laws that prevent and preclude them from their mistreatment of us and try to flip it back on us and call it reverse discrimination," said Boyd.
Get Top Stories Delivered Weekly
More districtchronicles News Articles
Recent districtchronicles News Articles
Discuss This Article