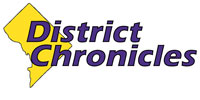 Post Classifieds
NAACP statement on the resignation of Rachel Dolezal
On June 22, 2015
BALTIMORE, Md. – After a firestorm of controversy over misrepresentation of her racial identity, Rachel Dolezal, president of the NAACP's Spokane, Washington Branch, resigned Monday. But not until after NAACP national president Cornell William Brooks issued the following statement:
"The NAACP is not concerned with the racial identity of our leadership but the institutional integrity of our advocacy. Our focus must be on issues not individuals. Ms. Rachel Dolezal has decided to resign to ensure that the Spokane branch remains focused on fighting for civil and human rights. This resignation today comes amidst the real work of the NAACP and the real challenges to our democracy.
"At a civic moment, when we mark our civic calendar with a criminal justice tragedy every few days including a children's birthday party with police and pool; at a moment when the civic sacrament called the vote is desecrated by voter disenfranchisement; at a moment where rising income inequality and declining social mobility leave American workers stranded outside the middle class; and at a moment when our world class economy is undermined by third class schools for forgotten students; the NAACP announced today the long schedule for America's Journey for Justice.
"This historic 860 mile march demands a disciplined focus not on any individual among us but the issues that affect us all. We are calling on Americans of every hue and heritage, of every racial background and of every political party and those with no party affiliation, and those of every generation to make history and make change by marching on America's Journey for Justice."
After Dolezal's resignation, Brooks issued another statement recalling the 106 years of NAACP's tradition of of receiving support from people of all faiths, races, colors and creeds.
"NAACP Spokane Washington Branch President Rachel Dolezal is enduring a legal issue with her family, and we respect her privacy in this matter," Brooks said. "One's racial identity is not a qualifying criteria or disqualifying standard for NAACP leadership. The NAACP Alaska-Oregon-Washington State Conference stands behind Ms. Dolezal's advocacy record. In every corner of this country, the NAACP remains committed to securing political, educational, and economic justice for all people, and we encourage Americans of all stripes to become members and serve as leaders in our organization.
"Hate language sent through mail and social media along with credible threats continue to be a serious issue for our units in the Pacific Northwest and across the nation. We take all threats seriously and encourage the FBI and the Department of Justice to fully investigate each occurrence."
Get Top Stories Delivered Weekly
More districtchronicles News Articles
Recent districtchronicles News Articles
Discuss This Article