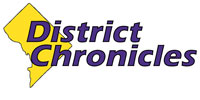 Post Classifieds
University of Virginia honor student talks arrest, future
By Joey Matthews
On July 7, 2015
(TriceEdneyWire.com) - Martese Johnson still has two scars on his forehead and one under his left eye. The rising fourth-year University of Virginia honors student also bears deep emotional wounds, for which he has undergone counseling.
The scars are reminders to Johnson of what can happen to African-American males when they are confronted by White law enforcement officers in what would seem to be even the most routine of circumstances.
Three months after he was slammed face first onto the pavement during a questionable arrest by three White Virginia Alcoholic Beverage Control officers outside a Charlottesville pub, memories of that night still haunt him.
"I don't think I'll ever fully get past it," Johnson told the Free Press on Tuesday. "I think it will last the rest of my life.
"Regardless of what I do, someone will always know me for this incident, personally or professionally," he added.
Johnson was charged with public intoxication and obstruction of justice – both misdemeanors – after his violent takedown on March 17. Prosecutors announced on June 12 that they were dropping the charges.
Charlottesville Commonwealth's Attorney Dave Chapman says he dropped the charges after determining Johnson "had done nothing wrong" before ABC agents confronted him to determine if he was using a fake I.D. or was intoxicated.
He said he could have charged Johnson with resisting detention, but decided that trying to slap the young man with a criminal record would "not be right."
Johnson, who recently turned 21, spoke from Washington, where he is completing an internship this summer with the Center for American Progress, a progressive think tank. He said he focuses on issues pertinent to millennials, such as criminal justice reform, climate change and campus sexual assault.
Johnson discussed the night of his very public arrest.
"I was not drunk," said Johnson.
Images of his bloodied face spread via social media, sparking local and national outrage and demonstrations.
Johnson said that at the time, he was well aware of the highly publicized deaths of Black males throughout the country.
"When they took me down, I could have hit the pavement in a different way and things could have turned out much differently," he said.
George Keith Martin, rector of the University of Virginia, concurred.
"Martese is a fine young man with a very bright future. I wish him well in his fourth year at U.Va., and I am pleased that the cloud of the ABC charges has been lifted," said Mr. Martin, who also is managing partner of McGuire Woods' Richmond office.
Though charges were dropped against Johnson, charges, were not pursued against the ABC agents involved. After an investigation by the Virginia State Police that involved interviews with 52 people, including 15 witnesses to the bloody arrest, it was found the wawatkinsABC agents acted properly. He said the agents had authority to detain Johnson and that he found no indication they acted with "malice or racial animosity" in their handling of the situation.
In response to the incident, Gov. Terry McAuliffe ordered the State Police investigation. He also issued an executive order requiring retraining by Sept. 1 of all ABC agents in "use of force, cultural diversity, effective interaction with youth and young adults and community policing."
Perry Hicks, a Richmond security officer and former special court appointed conservator of the peace, said he believes Chapman's office cleared the officers to "establish a positive defense against what will be any possible civil litigation" on Johnson's behalf.
"Had not social media video of Martese's arrest gone viral, still another young Black male would have been convicted of crimes based on fallacious law enforcement testimony," he said.
Johnson said he did not necessarily want the officers to be charged criminally, but he believes racism played a large role in the way he was treated.
"I think those officers should endure some form of repercussion," he said. "It's not my priority for those officers to be charged because, ultimately, the way those officers treated me is a product of larger societal issues.
He said the officers became quiet when they saw how badly he was bleeding. He then was shackled, taken to an ambulance and driven to a nearby hospital, where he received 10 stitches in his face, he said.
Get Top Stories Delivered Weekly
More districtchronicles News Articles
Recent districtchronicles News Articles
Discuss This Article