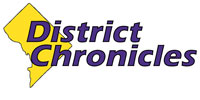 Post Classifieds
DHCD Hosts Seventh Annual Housing Expo
By Freddie Allen/Contributing Writer
On July 10, 2015
More than seven years after the housing crisis that crippled the economy and the Great Recession that followed, Clarice Ulu, 49, is back on the path to homeownership, a daunting journey made easier by the recent Seventh Annual D.C. Housing Expo and Home Show hosted by the Department of Housing and Community Development (DHCD) at the Walter E. Washington Convention Center.
After going through a divorce that left her "in a bag of debt," Ulu lost her home in Upper Marlboro, Md., in 2009 and returned to Washington, D.C., where she grew up, in 2010.
The transition from homeowner to renter was a hard one, Ulu said, because her extended family often gathered at her home to celebrate milestones and holidays.
"We always have celebrations and now there's not a house in my family," said Ulu. "I was the homeowner in Upper Marlboro, Md."
Past, present and future District residents walked the halls of the convention center like Ulu, visiting information booths and attending seminars taking the opportunity to meet with housing advocates and community stakeholders one-on-one.
The expo featured general workshops for renters and homeowners on topics ranging from free credit reports and credit counseling to affordable homeownership opportunities, lead awareness and how to make a home energy efficient and safe.
Polly Donaldson, the director of DHCD said that a lack of supply continues to present challenges in the D.C. housing market.
"There are a lot of demands on the housing stock here in the District," Donaldson said. "That's why we, in the Bowser administration, want to preserve the affordable housing that we have and also produce more, so that we can help more families and individuals stay in the District, even with the higher costs and with many neighborhoods changing in terms of new people coming in and prices rising."
Donaldson said that developers understand that the city just can't have one type of housing that is only for extremely wealthy people. That's why current and future plans include building new housing at various income levels and an inclusionary zoning program that requires that all new construction of apartments and condos in the city have affordable units set aside.
George Lambert, the president of the Greater Washington Urban League (GWUL), a group that advocates for the economic and social empowerment of the Black community and other minorities, said that GWUL partnered with DHCD to place 208 families in homes last year.
"This city is large enough and this city has a mayor that really cares about trying to ensure that all the residents of this city will have the opportunity to be a part of this city", said Lambert.
Representative Eleanor Holmes Norton (D-D.C.) said that even though residents are saddened by the disappearance of inexpensive housing in the District of Columbia, she was pleased to see that government agencies were working together to help people find affordable housing.
"What residents need now is not despair, they need hope," Norton said.
Norton said that District residents are still climbing out of the recession and that people who lost their homes are now looking in the rental market.
But residents, especially low-income earners, may not find much relief there, either.
According to a 2014 report by the National Low Income Housing Coalition (NLIHC), a group that advocates for affordable housing for low-income earners, a full-time worker must earn $18.92 "to afford a decent two-bedroom rental home at HUD-estimated Fair Market Rent (FMR) while spending no more than 30% of income on housing costs."
The report continued: "This national average is more than two-and-a-half times the federal minimum wage, and 52 percent higher than it was in 2000. In no state can a full-time minimum wage worker afford a one-bedroom or a two-bedroom rental unit at Fair Market Rent."
District lawmakers raised the minimum wage to $10.50 on July 1, but it's still far below the "annual housing wage" calculated by the NLIHC.
Norton said that the housing crisis is really not a D.C problem, but the federal government has handed it off to the localities to do whatever they can with it.
In an article for CNN.com, Julián Castro, the secretary of the U.S. Department of Housing and Urban Development wrote that, "Our entire nation is in the midst of an affordable housing crisis," and cited a HUD report that estimated "that 7.7 million low-income households live in substandard housing, spend more than half their incomes on rent or both."
Norton said that this nationwide housing crisis cannot continue.
Norton continues to work with her colleagues on Capitol Hill to restore $5,000 first-time homebuyer tax credit in D.C and other tax incentives to stimulate the economy and to help stem the tide of residents moving out of the city.
Speaking to the participants at the expo, Norton added: "I ask you to work with the District, I ask you to continue to work with me. In a bureaucracy, if there is solidarity, we can compel the Congress to help us meet our housing needs."
Donaldson said that many of the resources that were available at the DC Housing Expo and Home Show are available year-round at the agency's website, www.dhcd.dc.gov. That includes information on the Home Purchase Assistance Program, the Single-Family Rehabilitation program and financial literacy for teenagers. Hosting the housing event at the Walter E. Washington Convention Center just gives residents the opportunity to learn more about homeownership in the District and what DHCD has to offer in one convenient location.
"We want to help people make it happen," said Donaldson.
Courtney R. Snowden, the deputy mayor for Greater Economic Opportunity said that there's nothing like the freedom that comes with unlocking the door to your first apartment with a key that is yours.
"An even better feeling is walking into a home you own where no one can tell you what to do in that space," said Snowden.
Snowden pledged to work with the Department of Employment Services and the Department of Small and Local Business Development to connect residents to employment and entrepreneurial opportunities so that they can thrive no matter where they live in the city.
Ulu's goal is to own a home again by 2018, possibly in Ward 4, where she currently rents, or Ward 5.
Ulu attended the expo with Orie, one of her three daughters, because she said that it's important for them to understand what it takes to own a home in the District. Ulu said that she walked away from the event knowing that homeownership won't be easy, but it is possible.
"Even though I'm struggling, we're still moving forward," said Ulu. "We're still moving upwards and onwards."
Get Top Stories Delivered Weekly
More districtchronicles News Articles
Recent districtchronicles News Articles
Discuss This Article