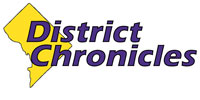 Post Classifieds
Removal of confederate flag is far from enough
By Jane A. Kennedy
On July 20, 2015
(TriceEdneyWire.com) – If Dylann Storm Roof had not massacred nine African Americans who'd gathered for Bible study at Charleston's historic Emmanuel A.M.E. Church on July 17, the Confederate flag would no doubt still be flying on the grounds of the South Carolina State Capitol.
But weeks after Roof, a White man who has been photographed with the racist symbol, committed what has been charged as a hate crime, the flag was taken down on July 10, and is now permanently archived at the Confederate Relic Room and Military Museum.
The historic moment took place after weeks of protest and intense pressure on lawmakers that also sparked debates in other states where the flag is still revered as a symbol of the Civil War and Southern pride. It first flew above the South Carolina statehouse in 1961 to mark the 100th anniversary of the Civil War and stayed there as an official expression of opposition to the civil rights movement.
"It felt like a massive weight had been lifted off South Carolina," said Gov. Nikki Haley on Sunday on NBC's "Meet the Press." "We can truly say it's a new day in South Carolina."
But that day did not come easily. A few days after Roof fatally shot the nine church members, Haley called for the flag's removal from the capitol grounds, although she has in the past defended its presence. Taking it down, however, required a two-thirds majority vote in both the state's House and Senate.
The bill passed easily in the upper chamber by 37-3, but faced stiff opposition in the House. In an attempt to block it, Republican representatives attached to it more than 60 amendments. They argued that the flag is an emblem through which they honor their ancestors who fought for the Confederacy and has nothing to do with slavery or racism.
Rep. Jenny Anderson Horne, a Republican and descendant of Jefferson Davis, said it was time to stop using heritage to justify something that to so many people represents hate. It was, Horne said, an insult to their late colleague, Democratic state Sen. Clementa Pinkney, who was one of the nine people slain by Roof.
"I cannot believe that we do not have the heart in this body to do something meaningful – such as take a symbol of hate off these grounds on Friday – and if any of you vote to amend, you are ensuring that this flag will fly beyond Friday," said a visibly emotional Anderson Horne. "And for the widow of Sen. Pinckney and his two young daughters, that would be adding insult to injury – and I will not be a part of it."
Following a House vote of 94-20 on July 9, surrounded by relatives of the shooting victims and Republican and Democratic lawmakers, the governor signed the legislation using 13 pens, nine of which she gave to the families.
Rep. Ken Clavert (R-Calif.), however, added a late-hour amendment to the Department of the Interior funding bill that would overturn a measure easily passed a few days earlier prohibiting the display and sale of Confederate symbols at national parks and cemeteries.
Democrats were outraged and delivered blistering indictments of Republicans' defense of the flag and what they called a shady move made in the "dark of night."
"When I was marching across that bridge in Selma in 1965, I saw some of the law officers, sheriff's deputies, wearing on their helmet the Confederate flag," recalled Rep. John Lewis (D-Ga.), an icon of the civil rights movement. "I don't want to go back, and as a country we cannot go back."
In Alabama, Gov. Robert Bentley ordered four Confederate flags removed from a monument on the State Capitol grounds. Georgia Gov. Nathan Deal stopped the use of specialty license plates that featured the Confederate flag as did Virginia Gov. Terry McAuliffe. And some lawmakers in Mississippi are calling for the state's flag, which features the Confederate stars and bars, to be changed. Still, large swaths of people continue to support the Confederacy and the flag and other symbols are littered throughout the South.
"South Carolina taking down the confederate flag – a signal of good will and healing, and a meaningful step towards a better future," tweeted Obama.
Get Top Stories Delivered Weekly
More districtchronicles News Articles
Recent districtchronicles News Articles
Discuss This Article